Are you looking for a spiritual practice as well as a practice that works on the physical and mental level? These benefits make this group Kundalini Meditation Yoga class a great option for both beginners and more advanced yoga practitioners.
Kundalini Yoga as taught by Yogi Bhajan uses techniques such as breathing, movement, meditation, mudra (hand positions), relaxation and sound (mantra) to draw your focus inward and awaken your self awareness and true potential. The class environment is very cosy and the practice allows you to participate at your own pace and level, and in your own time.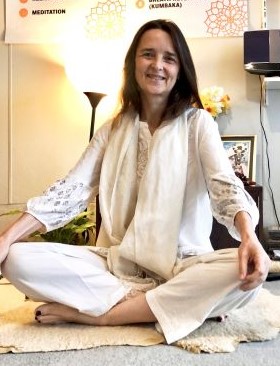 Yoga Classes in 2022
I have a few remaining classes in December 2022. The dates are here and please let me know if you are keen to join on Zoom (limited spaces may be available in person also). Times are given in NZDT and classes are held in Witherlea, Blenheim, New Zealand.
Thursday 1st December 6-7:30pm
Thursday 8th December 6-7:30pm
Wednesday 14th December 6:30-8pm

$15 on Zoom, $20 in person
Email Nicky directly at nicky@yogamarlborough.nz or give me a call on +64 21 0259 2428.
"I find the classes to be up lifting and energising. I find Nicky to be 'real', natural and live her talk. She leads by example and is kind, caring… If you are thinking of joining a class "Just give it a try. You will get benefit on all levels. It is not just for physical health but "holistic well being". Physical, mental and emotional. Magical for the soul". "

Colleen Morgan, Yoga Student
"I love Nicky. Her classes are a privilege and I love the way she is constantly explaining through her own voice, her interpretations and experiences. It's a very gentle time healing and enriching".

Toni Gillan, Yoga Student
" The best part about Nicky's classes is the breathing and the help the meditation has given me with my sleep and health issues".

Donna Tocker, Yoga Student
I like that the class size is small, and the environment is very relaxing. Nicky is therefore able to give each individual attention and establishes great rapport with her students.

Sha – Yoga Student